Sign up for ESY below! We won't bother you except to let you know about fresh, new content. We promise!

The U.S. Constitution has no instructions regarding the size of the House of Representatives. It was an act of Congress itself, the Permanent Apportionment Act of 1929, that set the size of the House at the 435 members we know today. Congress could change that number at any time.
The U.S. Constitution does require that "Representatives shall be apportioned among the several States according to their respective numbers." This means that, as the population grows and the number of Representatives stays the same, more and more people are squeezed into each Congressional district. The smallest states (according to population) are afforded just one Representative. In these states, the one congressional district encompasses the entire state. These districts are called "At-Large" districts. These states don't have to tussle with the complications brought by gerrymandering and redistricting.
There are currently seven states with At-Large districts. The map below (click here for an interactive version) shows these seven states — Alaska, Delaware, Montana, North Dakota, South Dakota, Vermont, and Wyoming. Dark red represents Safely Republican, dark blue represents Safely Democratic, and light red represents Likely Republican.1Ratings are from Sabato's Crystal Ball Of the seven districts, three are Safely Republican, two are Safely Democratic, and two are Likely Republican.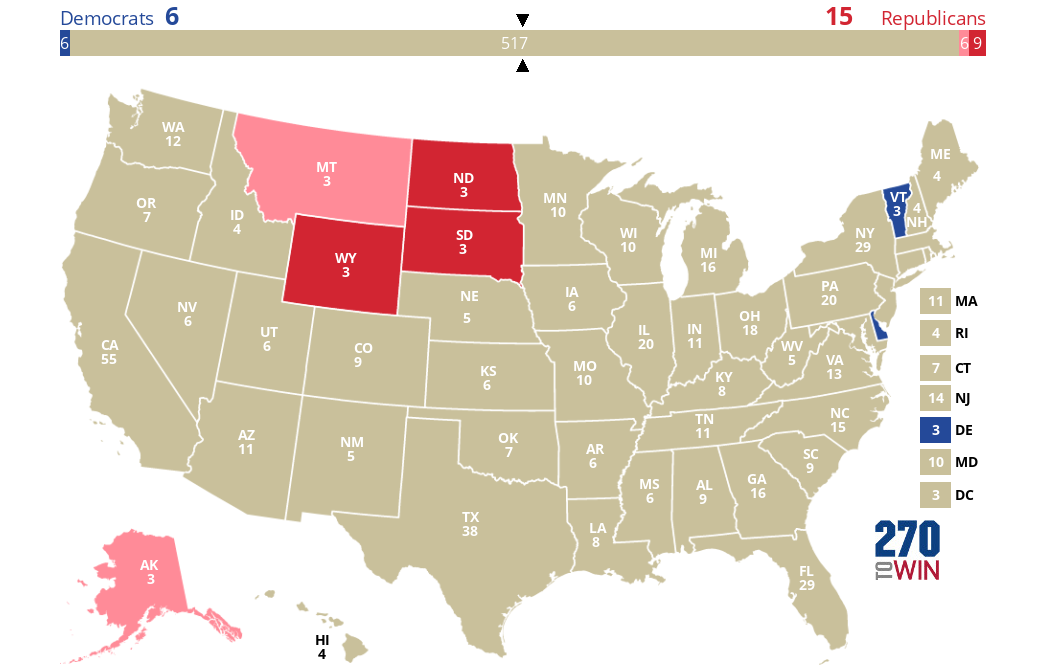 Click the map to create your own at
270toWin.com
It's not surprising that most of these seats are Republican, given that less densely populated areas are more conservative. It's the two smallest (and therefore the densest) states — Vermont and Delaware — that are Democratic leaning. The only competitive districts are in Alaska and Montana, although even these are very likely to be won by a Republican barring a hugely Democratic year or a collapse of the Republican congressional candidate.
Don Young from Alaska, should be safely reelected, but did have a close-ish election last year. He only won by a 6.6% margin. But Trump won the district by over 15%, and in a non-blowout presidential year, Young should have no real trouble. 
Republicans have similar prospects in Montana — they are nearly certain to win barring a terrible Republican environment. The day before a special election in 2017, Republican incumbent Greg Gianforte allegedly attacked a reporter (he eventually pleaded guilty, paid a fine, was assigned community service and anger management training, donated 50,000 to the Committee to Protect Journalists) and still was reelected by about 5% the next day. In 2018 he again won reelection by 5%. Still, though, he only won his past two elections by mid-single digits. Gianforte is now running for governor, but Republicans will probably hold the seat that Trump carried by 21%. Democrats have, however, added the district to its target list, meaning that the party thinks they have some hope of flipping it.
The other seats are safely Democratic or Republican: All were won by at least 24% in 2018. It's hard to imagine any wave being strong enough to flip these seats.
These representatives are still ones to watch, though! Because they are state-wide federal political figures, they have a unique shot at climbing up the ladder to becoming Senators. These states have an interesting dynamic where there are two seats for the more prestigious Congressional chamber (the Senate) and only one available for the 'lower' chamber (the House). Of the seven states with at-large House representation, six (DE, MT, SD, ND, VT, WY) have a current senator who was once their state's at-large representative. One — Bernie Sanders from Vermont — has a chance at becoming the Democratic Party's presidential nominee next year.
So even if the at-large elections aren't always competitive, they are races and candidates to watch. The at-large seats give politicians a unique stepping stone to higher office and becoming national political figures. Keep an eye on these seven states and their Representatives, even if they're going to win reelection by 20%-50%. Like Bernie Sanders, they may have a shot at becoming a presidential nominee 30 years down the road.